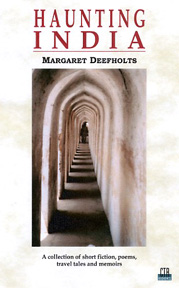 Excerpts from "Haunting India"
(a collection of short fiction, poetry, travel tales and memoirs)



Book Reviews:
The Last White Hunter by Joshua Mathew

Women of Anglo-India
Edited by Margaret & Susan Deefholts
The Way We Are
Edited by Lionel Lumb & Deborah Van Veldhuizen
Reviewed by Lynne Rebeiro
Anglo-Indian Recipe Cookbook
by Bridget White-Kumar
The Way We Were
Edited by Margaret & Glenn Deefholts
Blind Spot
by J. Chloe Braun & Lynette Rebeiro
No Babylon
by Peter Moss
The Age of Elephants
by Peter Moss
Vegemite Vindaloo
by David McMahon
An Ordinary Woman
by Cassiopaeiae

Haunting India

Anglo-Indians: Vanishing Remnants of A Bygone Era
Hurdy-Gurdy
by J. Chloe Braun
"Tale of a Tiger's Tail & Other Yarns from Coorg", "Nuggets from Coorg History" & Victoria Gowramma
by C.P. Belliappa

An Anglo-Indian Childhood
by Shirley Gifford-Pritchard
From "The Raj to the Taj" Cookbook
by Doreen Jonas

Footprints On My Heart
by Jennifer Paul
Bye-Bye Blackbird
by Peter Moss



Guest Writers
Fred's Hat - New!

Tell me a story...
....is a timeless phrase which draws us to the pages of today's newspaper headlines just as much as it did long ago, before words came to be written down and when tribal peoples sat around a fire listening ...listening.
There are tales that move us to laughter, horror, anger and pity. Some entertain us for a moment, others resonate in our minds and hearts. Remember when you and I followed, breathless, the adventures of Dorothy as she and her cohorts braved the perils of Oz? And then later when we took our kids with us into the enchanted world of The Lord of the Rings? Today's youngsters are just as round-eyed as they peek over the shoulder of Harry Potter.
Maybe you don't pick up a book that often. But you've sat on a bar-stool listening to a yarn about the 'one that got away'. Shared, over a cup of tea, a friend's adventures in Peru. Or shaken your head in amazement at a tale of some queer coincidence that overtakes us all from time to time. Those are stories too.
Come in and browse through the shelves of my reading room. Pick up a short story. Scan through a poem. Read book reviews. Or chuckle at the funnies.
And, oh yes,…if you are a writer, do check out the reference section for links to annual literary contests, potential markets and articles on the craft of writing posted on literary web-sites.
My library isn't perfect. You can't pick up a book, feel the weight of it as you take it off the shelf, sniff at the smell of brand-new binding or run your fingers over a page embossed with words. But never mind. Your imagination can do all that and more. So, if you will permit me…shall I tell you a story?


PenMe