AN ORDINARY WOMAN
By Cassiopaeiae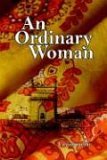 SYNOPSIS
Born in India during the British Raj, Elizabeth was brought up in a very strict and religious atmosphere. She blotted her copybook early in her life and found herself deserted alike by her lovers and people she had considered her friends. Thinking of herself as predomiantly English it is with horror that she finds herself regarded as a foreigner when she eventually reaches her Promised Land. India in the wake of Independence was not inclined to accept the relicts of the Raj and so she discovered that she was neither fish nor fowl. It is a tale of great sadness but also of triumph over circumstances which might have daunted a lesser soul.
Readers' Reviews:
Irene (UK): I have just finished reading this book and could not put it down. A most interesting and unusual story.
Georgiana (UK): A woman's story which will touch women all over the world. The heroine experiences discrimination of many kinds, because she is female, because she is of mixed race, because she became an unmarried mother - the sort of thing which we like to think is unthinkable in today's world but which still continues in many cultures.
difjon "difjon" (London): A wonderful read. Great descriptive of Anglo Indian life and life in the UK in the sixties and seventies. A study in how attitudes have changed over the past forty years which gives much food for thought.
Missy (UK): Extremely well written narrative depicting Anglo-Indian life in the forties and fifties when the sun was setting on the Raj.
Publishing Details:
Paperback 348 pages (March 23, 2006)
Publisher: Unknown
Language: English
ISBN: 1420887238
Category(ies): Biography
For further details regarding price and availablity please click on the Amazon UK site below
http://www.amazon.ca/gp/product/1420887238/701-1885586-5527536?v=glance&n=916520&s=gateway&v=glance