THOSE WERE THE DAYS…

Those Were The Days" is a "coming of age" story, told in a series of flashbacks to Anglo-Indian attitudes in pre-and-post-Independent India. Did the story-teller compromise her heritage by the choices she made? What binds her today - as a Canadian - to her roots?

An Excerpt from Haunting India

by
Margaret Deefholts
"Toronto 1992. An International Anglo-Indian Reunion. The band plays 'In the Mood' and the dance floor is thronged. Women wear evening gowns, their throats and wrists aglitter with jewellery, and men are in formal suits or tuxedos. Some are light-skinned and look European while others are swarthy and have Indian features. Over three thousand people are here from Canada, the U.S., Britain, Australia, New Zealand and India. Most of them are in their mid-fifties or sixties. Some are in their seventies. Very few are under thirty.
"Mind if we join you?" A couple stand at my table, drinks in hand, smiling tentatively.
"Not at all. Please do."
"Bill Jessop…my wife, Ethel."
"Marjorie." I say, as we shake hands.
Bill sits down. Ethel says, " 'Scuse me for a minute, I'm off to powder my nose."
The crooner, sings "…I'll have the last waltz with you..." He then switches to "Summer Holiday". The crowd cheers at the tribute to Anglo-Indian entertainers, Englebert Humperdinck and Cliff Richards.
"It's interesting to see so many of us together again, isn't it?" Bill swivels to look at me. He is a thick shouldered man with a florid complexion. Sixty-ish. "Not many left who knew what it was like in India back in the 40's and early 50's."
"Yes. It was a different world then," I say. "But my parents decided to stay on even though we knew there'd be changes along the way."
* * * * * *
It is August 1947. I am six years old, in the town of Allahabad. Something called 'Independence' is happening and everyone seems very agitated about it. My grandmother reads the newspapers and says "What's going to happen to us?" This frightens me. Would 'Independence', like some fierce wind, knock everything helter-skelter and leave us homeless? Or worse still, dead?
My grandfather feels that we'll all be okay. He is sitting on the veranda of their bungalow, talking to a neighbour. "Yes, but you're retired Mr. Harris," says the neighbour. "What about us working folks? The jobs that the British have always guaranteed for Anglo-Indians will disappear. Its India for the Indians now. Perhaps they will simply chuck us out."
"Well, I suppose you could go to England," says my grandfather. "Like Johnny and Marie Green. They're booked on a passage to Southampton next month."
I'm uneasy and creep onto my grandfather's lap. He strokes my hair absently. I suck my thumb, and my grandfather gently takes my hand away from my mouth and holds it in his. His skin feels warm and rough.
I know a bit about England. It has pretty little cottages with gnomes and fairies living at the bottom of their gardens. Noddy is one of them. And children have nannies and dolls called Amelia Jane. The boys wear blazers and caps with school emblems on them, and the girls wear bloomers. They say things like, "Jolly good!" when they have crumpets and jam for tea.
No English gnomes or fairies live at the bottom of our garden. The Indian summers stun the earth to barrenness, and the monsoon rains turn everything into a quagmire of mud. Unlike the pictures of gentle English gardens, the colours of our flowerbeds are torrid and unruly: rath-ki-rani, marigolds and cannas, all wooed into bloom by the mali, a stick-legged old man in a dhoti who mutters imprecations against the elements."

Back to Haunting India Table of Contents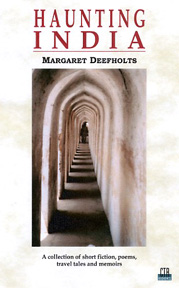 Back to Margaret's "Welcome to My Villa" Page