RAILWAY LIFE IN ANGLO-INDIA
The Railways in India were - and still are - a world within a world, where each junction station has its own residential colony, hospital, school, Institute and Club. Although much has changed in contemporary India, this chapter on Railway Life in Anglo-India will bring back memories for many Anglo-Indian readers whose families were part of India's vast and complex railway system prior to Independence.
An Excerpt from Haunting India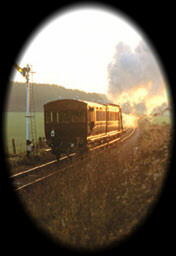 by
Margaret Deefholts

"Probably the most delightful part of railway life for me as a child (apart from the fun of exploring yet another new bungalow and town) was the unmitigated thrill of travelling on the rails. And we did a great deal of this right through the '40s and '50s, until we eventually moved to Bombay in the '60s. Dad sometimes took us "on line" (during our school holidays) when he went on tour to one of the outlying stations within his jurisdiction.

As a junior officer, he had an Officers' Carriage - a capacious four berth compartment with an attached kitchen and an alcove with two tiered sleeping berths for our cook and bearer. My mother would pack a large wicker tiffin (food) hamper with bread, butter, eggs, jam, tea, sugar and condensed milk tins, and the cook would be dispatched to the local market each day for fresh meat, vegetables and fruit, while the O.C. stood parked on an off-platform siding. Remembering the sound of the wheels clacking over the points, the jog and sway of the carriage, the smell and prickle of coal dust on skin and scalp (this was in the days before diesel engines) and the taste of hardboiled eggs (smeared with sooty fingerprints!), still evokes a feeling of nostalgia.

When my father became a Department Head, the Officers' Carriage was replaced by an Officers' Saloon - a 3-bedroom bogey with a wash basin in each bedroom, a private toilet and shower, a kitchen and pantry with a fridge, a dining area with a fold-away table, and a lounge with comfortably upholstered sofas and curtains framing the windows. Sometimes, though not always, the saloon was air conditioned rather than fan-cooled.

Indian railway first class carriages until the '60s were self-contained four berth compartments with their own attached toilets. These have all now disappeared and been replaced by relatively cramped four berth cubicles leading off a long corridor, with common toilets situated at each end. When on holiday, we traveled in those roomy first class compartments, (rather than in officers' carriages or saloons) but although my mother still packed a snack food hamper, we didn't have a cook or bearer accompanying us. Our meals-breakfast, lunch and dinner-were catered from either the railway restaurant car (now non-existent) or from railway catering establishments at junction stations. A meal order would be telegraphed down the line, and delivered at the next major train stop. Dining room contractors such as Kellners (north India) produced excellent meals, and their caramel custard was legendary!

When it was necessary to stay overnight before making a train connection, we were accommodated at the Railway Officers restrooms at the station. In those days they were impeccably clean, (although the rooms smelt of phenol swabbed floors!) and the Railway station dining rooms had heavy cutlery, and crockery/glassware embossed with the insignia of the Indian Railways. The bearers (waiters) wore starched white jackets, and their belts and turbans were surmounted by a badge or buckle with the Indian Railways logo.

For me, no return trip to India is complete without a train journey, even though the engines are diesel and the wheels no longer beat to the rhythm of our ayah's chant of "Chay-chay paisa, chal-Calcutta…" (six-six paise, go Calcutta!) and breakfast now comes pre-packaged in a soggy cardboard box containing an equally soggy "amlet" and leathery "toas". Gone forever too, is beef curry with fluffy scented rice-and also vanished, alas, is the best caramel custard in the universe!"

Back to Haunting India Table of Contents