ROHINTON MISTRY'S BOMBAY
Rohinton Mistry's novels have won international acclaim. His tale A Fine Balance won the prestigious Giller Prize while his previous book, Such A Long Journey was awarded Canada's Governor-General's Award, and was short listed for the Booker Prize. Although this article follows in the footsteps of Mistry's characters, it is also an exploration of Bombay (Mumbai) - India's most dynamic and vibrant city
An Excerpt From Haunting India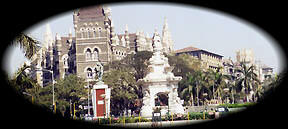 By
Margaret Deefholts
"At 10 o'clock in the morning the street is a tumult of double-decker buses, taxis, cars, scooters and pedestrians. Motorcyclists rev their engines and truck drivers lean on their klaxons as they edge past obstinate bullock carts. Sidewalk vendors bawl above the din, and the smell of spices, dust and thronging humanity hangs over everything. The scene is both dizzying and exhilarating.

Not surprising. I am in Bombay, India's most diverse, gritty and compelling city. Now called "Mumbai", it is home to sixteen million people give or take a few hundred thousand slum squatters who escape the census polls. More than any other Indian metropolis, it is a mirchi-masala city-a tangy mixture of cultures, religions and languages.

It is also a city of many worlds, crammed into its all-encompassing fist. It has clawed at the consciousness of writers who once called it home-from Salman Rushdie's grotesque, inverted tale of Midnight's Children to Vikram Chandra's portrayal of a complex and sophisticated society in Love and Longing in Bombay.

Mumbai is also Rohinton Mistry's landscape-the canvas on which he paints the details of his characters' lives: their anguish, joy and pathos. Mistry's tales, drawn from his own background, center around the small, tightly-knit community of Parsis, whose ancestors fled Persia in the wake of religious persecution and settled along the west coast of India in the eighth century. Their culture is as unique to this 'City by the Sea' (A Fine Balance) as are the Towers of Silence on Malabar Hill and the Fire Temples where they worship, mourn and rejoice."
[The following is an extract from a subsequent section of the chapter]
"As the brief Indian twilight thickens into dusk, I leave the Hanging Gardens and look down at the now brilliantly-lit curve of Marine Drive which lies like a glittering choker necklace against the throat of the dark sea.

The road from the Hanging Gardens winds past the elite mansions of Malabar Hill. I take a taxi to Chowpatty Beach ( mentioned in several of Mistry's short stories) and I'm catapulted into a celebration of life at its most exuberant-an abrupt transition from the somber Towers of Silence.

It is now dark. The beach is partly neon-lit, and hissing kerosene lanterns illuminate some of the vendors' booths. Music from the latest "Bollywood" film blares from a loudspeaker, and at one corner of the beach a hand-cranked contraption with four tumbling boxes is filled with shrieking, delighted children. The sands are thick with people, strolling, chatting, laughing and pausing to treat themselves to Mumbai's specialty "bhel-puri" (a spicy mixture of puffed rice, chopped onions and coriander leaves, green chilies and tamarind juice), or sample kulfi ice-cream from vendors' carts. Within my first two minutes on the beach I am offered a pony ride, a horoscope reading and a chance to try my skill at cards. A masseur at my elbow is persistent. "Brain massage, memsahib? No? Okay, then you like to try body massage?" I shake my head. A small packet tied with thread is waved in front of me. "This very good medicine memsahib, fine for roly-poly with your Mister. Hundred times better than Viagara (he pronounces it 'bhaiayagra'). Guaranteed!"

The beach is littered with shredded paper, cardboard containers and plastic bags. To one side is a bright red barrel which proudly announces: "Utility Multi-Advantageous Fibreglass Waste Bin". It is completely empty."

Back to Haunting India Table of Contents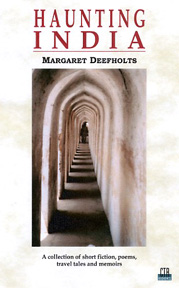 Back to Margaret's "Welcome to My Villa" Page