CRUISING THE BACKWATERS OF KERALA
by Margaret Deefholts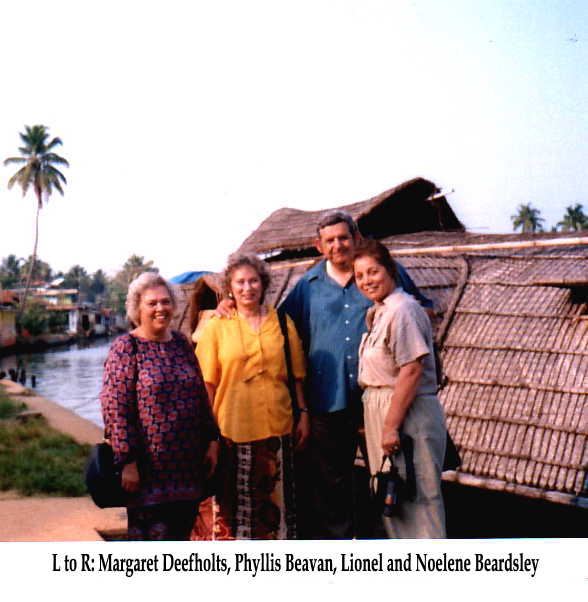 The scene is lazy, dreamlike. Winding waterways, waves stippled by sunlight, palm-fringed shores, and fishing nets slung from cantilevered masts which rear like pterodactyl skeletons against a steel-blue sky. The four of us, my sister Phyllis, my cousin Noelene and her husband Lionel, and I are cruising the backwaters of Kerala on the west coast of southern India. We are aboard a two-bedroom houseboat and, like pampered colonials of another era, we loll against cushions on rattan settees in the living room and sip chilled Indian beer. The tang of sea air, borne on the warm breeze mingles with the spicy smell of frying fish from the kitchen galley at the aft of the boat.
Joseph, rangy and languid, is head honcho of the three-man boat crew. He announces lunch as Francis, the cook, bustles in and places rice, lentils, crisp sizzling fish, and curried eggplant sprinkled with grated coconut, on the table. A yoghurt-based salad of tomatoes, cucumber and green chillies completes the meal. Francis looks much like an eggplant himself - plump, black-skinned and shiny. The third crew member, John, is helmsman and general factotum. He has a ready smile, and hair as curly as fried onions. All three of them are Christians, but Joseph is the only one who speaks English with relative fluency.
Afternoon shadows leap against the woven cane walls of our houseboat as slitty-eyed with repletion, we listen to the soft lap of the water against the bow and the drone of the outboard motor.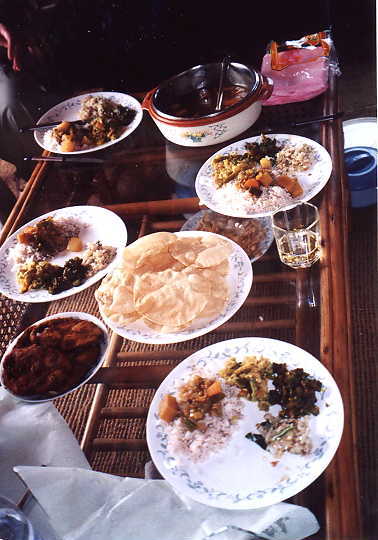 Although the scenery along the backwaters is breathtaking, this part of Kerala coast is more than just a tourist tropical paradise. The canals, an intricate network of waterways extending from the port city of Kochi (Cochin), south to Alappuzha (Alleppey) and Kollam (Quilon), play an intrinsic part in the lives of those who live along its banks.
Sheltered within coconut palm groves, little village settlements are alive with activity: women slap their laundry on stones at the water's edge, men cycle along narrow winding roads with baskets of bananas perched on their back-carriers, and uniformed school children sit under the trees, repeating their lessons in a sing-song chant. Naked urchins splash in the shallows, bobbing up and down, grinning, waving and shouting, "Hullo! hullo! Do you have pens? Chocolate? Chewing gum?" Fishing nets are spread out to dry along the foreshore, and small whitewashed churches gleam in the sun.
The canals also serve as transport for both people and goods. We pass a prim sari-clad matron sitting on a wooden bench in a dug-out canoe, looking for all the world like a not-amused Queen Victoria. Crowded municipal ferries putter self-importantly past us. Other barges, rusty old derelicts, carry cattle, bulging jute gunny sacks and baskets of coconuts. Fishermen, bare-bodied except for lungis (cotton loin-cloths) knotted around their waists, beam and wave. One of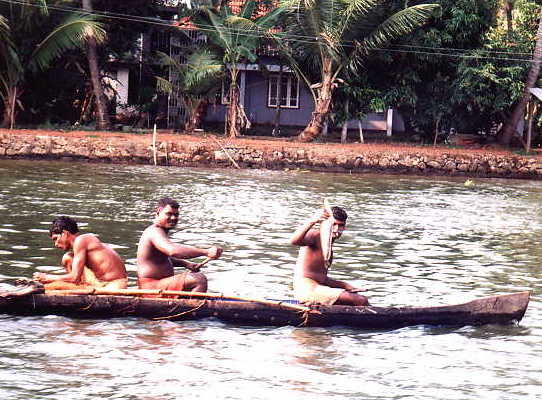 them hoists his prize catch - a large fish, still wriggling, its fins flashing silver in the sunlight. We clap and give him a thumbs up.
It is late afternoon now and John steers the houseboat towards the shore. Joseph explains that we are stopping for tea and will then visit a family who make their living at coir spinning-a typical cottage industry along the coast.
We sip our tea in the shade of a lean-to bamboo shack, and nibble on upma (fried semolina invigorated by mustard seed, onions and chilies) served on banana leaves, and then follow Joseph into the neighboring village. The coir spinners consist of granny, grandpa, mum, dad, aunts, uncles and several children ranging from infants to teenagers. The women spiral out strands of the sun-dried coconut husk fibre and feed it into a spinning wheel which turns it into string. Later it will be wrapped into skeins and sold to jute manufacturers by the weight. They make $5.00 a day - depending on the output. Joseph assures us that, although meagre by Western standards, this is a good, steady income. A crone bearing a runny-nosed baby on her hip, smiles at us through toothless gums; the younger women continue with their work - they have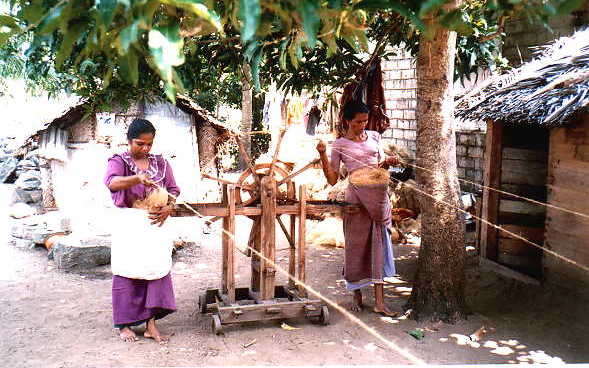 quotas to fill, notwithstanding the curiosity of visiting tourists.
Coconut palms grow in profusion all along the Kerala coastline. As a commercial crop, they provide not only coir but a variety of other products. The grated flesh, coconut milk and cream are integral components of South Indian cuisine. The oil is extracted for cooking purposes and is also used by the cosmetic industry to produce a range of popular and highly-scented hair oils. Dried palm fronds are plaited to serve as thatching, and coconut water is a refreshing drink on a hot day. Another beverage is also part of the palm industry and as we return to the houseboat, Lionel says to Joseph: "We'd like to buy some toddy. Is there a shop nearby?" Joseph, clad in an under-vest and loin-cloth, thoughtfully scratches the area below his armpit. "Okay," he says laconically. "I will get for you."
Toddy is palm sap, and if it is harvested early in the morning it is clear and sweet. Later as the day grows hot, it ferments into arrack. As it turns out we aren't able to buy just a glass or two. It's a whole bottle or nothing. The liquid looks like phenol and packs a strong smell. It is cheap, however, so we decide to give it a try.
One sip, and that's it. It reeks and tastes like yesterday's vomit. "Here you are," says Lionel magnanimously to Joseph, handing over the near-full bottle.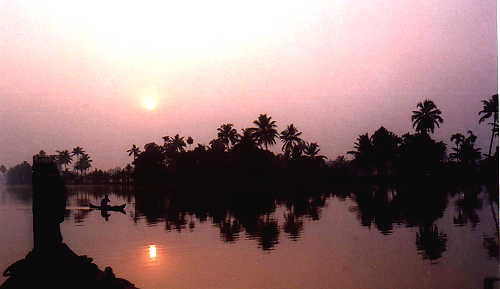 An hour later, as dusk falls, John drops anchor mid-stream for the night, and hangs kerosene-fuelled lanterns from the rafters. The sunset sky is flame-streaked as we pour ourselves our 'happy hour' libations of gin or rum, and listen to devotional chanting from a temple on the far shore.
Up to this point, we haven't thought about the absence of electricity on the houseboat. A pleasant breeze has fanned through the boat all day. Now, suddenly as night falls, the air turns oppressively still, and even sitting out on the fore-deck under a thickly-starred sky, makes no difference. There isn't so much as a whisper of a breeze. Lionel peels down to briefs. If it were not for the presence of the ship's crew we would have done likewise, stripping to bras and panties. As it is, my thin cotton T-shirt is soaked and rivulets of perspiration trickle down my back.
Packed into our overnight bags is a small hand-held wicker-work fan, and as I make my way to our cabin to retrieve it, I almost trip over the empty bottle of arrack lying in the corridor. Further along the passage Joseph is sprawled on the floor, out cold. Sounds of merriment emanate from the kitchen and I peer stealthily around the corner. Both John and Francis are singing lustily, John bashing a metal cooking pot with a spoon, Francis thumping his feet on the floor. Neither of them notices me.
"Better pour yourself another drink," I say as I rejoin the group. "Looks like we'll have to depend on liquid nourishment for dinner."
But I'm wrong. Dinner, served by a swaying Francis and an equally unsteady but beaming John, is a full meal: pea soup, steamed black rice (a specialty of the area), masala king prawns, curried mutton, vegetable cutlets and sugar-dusted banana fritters.
We've now run out of cologne-soaked Wet Ones and Noelene wonders whether the beer ice-chest might yield cubes to lay against our foreheads and necks. "Ice?" I say hopefully to Francis, pointing to the ice-box.
"No any ice," he says solemnly. "Ice box, he is locked. Joseph got key. But him no wake up. Him too drunk."
This sends John into a fit of giggles. "Him too drunk," he repeats happily, and kicks gently at his boss's snoring, recumbent form. Joseph merely grunts and turns over onto his side.
Although a window is set along one wall of our cabins, it affords no cross-ventilation. The heavy air lies against our faces like a suffocating blanket, and even the mosquitoes are too lethargic to move. Lights from the village ripple the waters, and all night long, as we groan and thrash around on sweat-soaked sheets, the drums and chanting seem to get louder and more intrusive. Around four in the morning, a tiny wisp of breeze enters the window, and we fall into an uneasy doze.
When we emerge bleary-eyed for breakfast, a fresh wind ruffles the pages of a newspaper lying on the coffee table. Other than the whites of his eyes which look like they are on fire, Joseph appears none the worse for wear.