Alaska's Villains, Vamps and Vagabonds
Part II
Dolly Arthur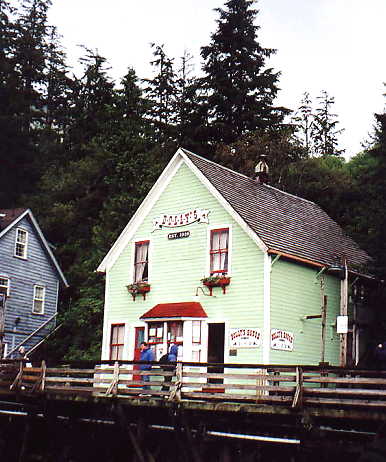 Dolly's House, Ketchikan
Unlike Skagway, Ketchikan doesn't have a "Soapy" Smith lurking in the shadows of its past. It does however pay affectionate tribute to its most celebrated hooker, Dolly Arthur.
Thelma Dolly Copeland was born in Idaho in 1888. She had an unhappy childhood and left home at thirteen, moving to Montana and then to Vancouver, B.C., where she worked as a waitress. A Junoesque beauty, she soon collected a retinue of male admirers and candidly admitted, "By the time I was 18 or 19, I realized that I could make a lot more money from the attention of men than I could waiting on tables." She moved to Ketchikan, changed her name to Dolly Arthur, and set up her establishment at 24 Creek Street in 1919.

Every night was party-time on Creek Street. Miners, fishermen, loggers and townspeople gathered to carouse, drink and visit the clapboard bordellos built along the boardwalk. Music floated out over the water and lights glowed from the windows, while the girls paraded, titillating and semi-nude, behind lace curtains. Although drinking was against the law (no one paid much attention to this) prostitution was legal, and the "sporting women" of the red light area of Creek Street, registered their businesses with the city police. Creek Street-set against wooded slopes of Deer Mountain-its hookers, and Ketchikan itself, roared through the '20s, '30s and '40s.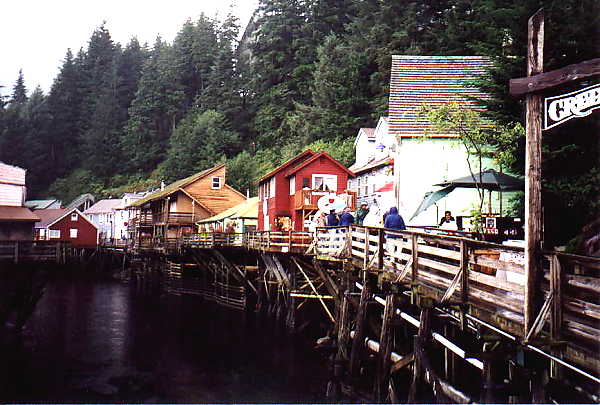 Creek Street, Ketchikan
Creek Street still thrives, but today its boardwalk brothels have been transformed into curio and souvenir shops. All of them that is, except Dolly's House which is now a museum crammed with memorabilia of her life and times. The rooms are much the same as when she lived there, and visitors can be forgiven if they feel her presence beside them as they peer at old black and white photographs standing on her bedroom dresser, or run their fingers over the cool brass railings of her queen-size bed. Does her shadow pass fleetingly over the birdcage standing to one side of the room, or pause in front of a favorite Victorian painting in the hallway? Can one hear faint echoes of the rumble of her old sewing machine or the stutter of the keys on her typewriter? Do the faded brocade-covered sofas and armchairs in the parlor still carry a whiff of her perfume in their folds? Perhaps.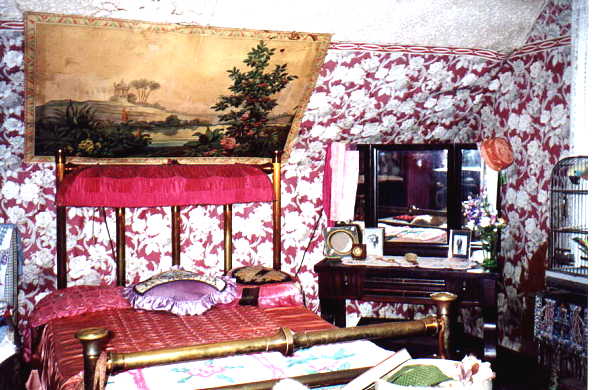 Dolly's Boudoir
Other than the facts concerning her origins and career, not a great deal has been written about the personal life of Dolly Arthur. June Allen in her book "Dolly's House" provides a tantalizing glimpse into Dolly's personality - her thoughts, opinions and emotions - as revealed in the course of several interviews in the early 1970s. Allen mentions that while still in her early twenties Dolly had an unhappy love affair in Vancouver. Perhaps a poignant reminder of that ill-fated romance was the words to a 1915 song found among her mementos: "I want you when I'm bright and cheery, need you when I'm sad and weary, Always to be near me dearie, for I want you all the while." The last man in her life was a longshoreman named "Lefty" who lived with her on Creek Street on and off over a period of 26 years. He was a charming rake who flitted about town surrounded by a coterie of admiring women. "He fooled around," Dolly is reputed to have said, "but he always came back." She bailed him out of financial scrapes on several occasions, not out of blind infatuation, but because she genuinely liked Lefty, and considered him a good buddy.
Dolly continued to live in her house at 24 Creek Street, even after the brothels were closed down in the late 1950s and the area assumed a mantle of respectability. She grew increasingly frail as she aged and spent the last year and a half of her life in a nursing home. When she died on July 1975 at the age of 87, all the major newspapers on the West Coast carried her obituary, paying tribute to a woman who indomitable spirit exemplified the tough, roistering years of Ketchikan's early history.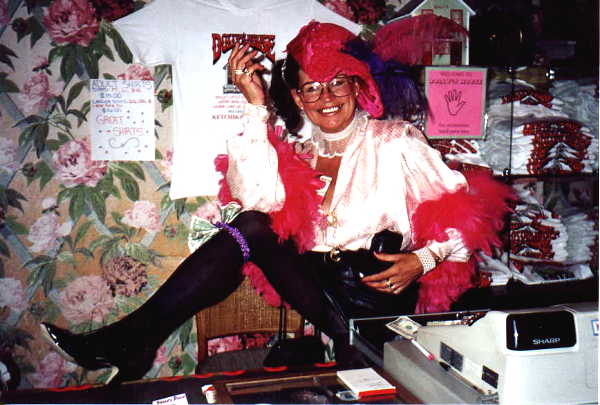 Welcome to Dolly's House, circa 2000
IF YOU GO:
While several cruise ships ply the Alaska coast, World Explorer Cruises offer a unique experience. Relax in an informal atmosphere aboard the S.S. Universe Explorer, a smaller ship which offers a huge selection of shore excursions, a great reference library, absorbing lectures on anthropology, history, biology and astronomy, a series of light classical concerts and a variety of fun-filled interactive shipboard events 8, 9, and 14 day cruises run through the summer (from Vancouver, British Columbia) until August 20, 2002. In addition, two 18-day cruises are scheduled through the Panama Canal and Central America. The first one (December 12th -30th ) starts in Nassau and ends in Ensenada Mexico; the second (December 30th 2002 - January 17th 2003) goes from Ensenada, to Miami.
Contact your local travel agent, or obtain details of schedules and costs from:
World Explorer Cruises Inc.,
555 Montgomery Street,
Suite 1400,
San Francisco, California 94111-2544
Tel: (415) 820-9200; Fax: (415) 820-9292
e-mail: info@wecruise.com
Website: www.wecruise.com
Previous Page