TRAVELLING TO INDIA AND NEED HELP?
Try Javed Ali of Real Tours India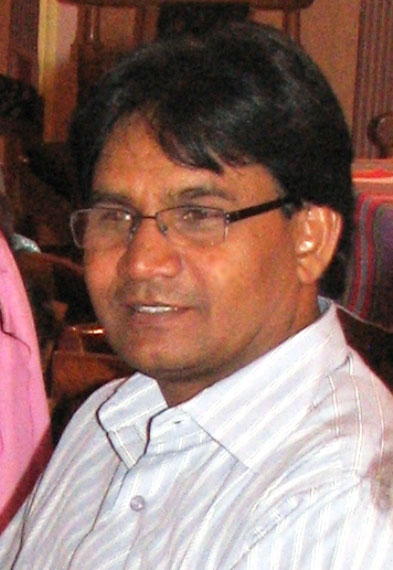 Javed Ali - Owner/Operator of
Real Tours India
If you are looking for personalized help with your travel arrangements in India, a small family-run tour company, Real Tours India, headed up by Javed Ali from New Delhi is an excellent option.
Javed Ali came recommended by a friend, and the one concern my cousins, Noelene and Lionel Beardsley from Australia, and I had before meeting him was that his English was very limited, as was obvious from his e-mails. Although comprehensive in dealing with our questions, his sentences had grammatical and spelling errors. However, none of this hampered his understanding of what was required of him. Despite initial misgivings, and impressed by his keenness to satisfy our preferences, the three of us decided to go with Real Tours India rather than with other more business-like, large scale tour operators. We didn't regret it for a moment.
Javed took great care to custom tailor our three week itinerary through Rajasthan and other areas in India in October 2007 and then again, more recently in January-February 2011 on a trip through Varanasi, Allahabad, Delhi, Corbett National Park and Naini-Tal.. As he did on both trips he consulted us on every detail of hotels so as to comply with our budgets and preferences for 3-star hotels. We did our own research on Lonely Planet and Trip Advisor as to hotels, but if Javed had concerns with the suitability of our choice, he advised us gently (no high pressure stuff) if he thought another hotel would suit us better than one we'd suggested. In every instance, he was spot on. Thanks to a roomy air-conditioned vehicle with really good drivers (a rarity in India) that Javed laid on, we travelled between cities in comfort and style.
And that wasn't all. In order to make sure that everything was up to our expectations in terms of price and quality (rooms, guides etc.) Javed personally accompanied us around Rajasthan, and again this year to Varanasi, Allahabad and Corbett National Park. He kept in regular touch via his cell-phone while we were touring other areas around the country on our own, to make sure our hotel rooms, transport arrangements etc. were up to spec.
Javed Ali takes a fierce pride in catering to his clients' individual requirements, so this is part of his usual modus operandi. If he isn't available as an escort, one or another of his family members will usually accompany solo travellers (including women) as well as groups of 20+ to ensure that they are satisfied with their tour arrangements. Granted that in India things don't run in quite the same way as they do in the west, there were few unpredictable twists (and few amusing incidents) none of which came as unpleasant surprises.
Javed's quotes are reasonable and compared favourably with other larger, more established tour companies operating out of Delhi. His company Real Tours India, does have a couple of websites (see below) so do take a look at both sites (particularly the former) and disregard the limitations of the site's 'Hinglish'.
He is ably helped now by his young daugher Ruksaar - a lively and enthusiastic office manager who responds promptly to e-mails on his behalf, particularly when he is on the road. (She, incidentally, has her own website http://www.indiatraveltrips.com/ and can be contacted at ruksaarali1991@hotmail.com)
So! If you are looking for someone who will go the extra mile to make your holiday in India a memorable one, you might like to give Javed Ali a try. His e-mails are listed below.
He'll be happy to hear from you.
Margaret
Contact Information:
Mobile: +91 9711929320
Mobile: + 91 9818398886
Land Line: +91 (011) 26069051
Land Line: +91 (011) 64661986
E-mail: javedali64@hotmail.com
E-mail: ruksaarali1991@hotmail.com
Websites:
http://www.realtoursindia.com;
http://www.indiatraveltrips.com/